Yesterday's Punt: There was just the single bet, but it was an interesting one. After backing the Clippers to win at $1.93, I decided to lay them early into the second quarter with the lay price at $1.11 for a tidy profit.
It ended up being the right move with the Wizards storming back to win 125-118.
Read more on my accidental first trade here.
---
NBA Bets
Lakers @ Cavaliers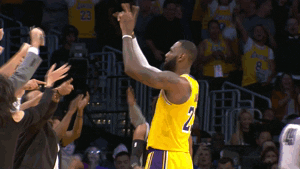 LeBron James makes his return to Cleveland which will garner plenty of attention.
We know the Lakers can receive an inflated line at the best of times and this current -9.5 line is big. Despite that, the public are flocking to it. At the time of writing, a massive 84% of bets and the money is on the Lakers, per The Action Network.
The Lakers can't be trusted to blow the Cavaliers out here. They've capitulated in the fourth quarter to sneak to victory straight up while failing to cover too many times (6-10 ATS). Even if they do clear the -9.5 line early, their -5.9 net rating in the fourth quarter leaves them wide open for a backdoor cover.
Cleveland won't play many meaningful games this season, but this is one they will get up for.
Tip: Cavaliers +9.5
Bucks @ Trail Blazers
Yes, the Blazers are playing the second night of a back-to-back, but this team is for real. They sit at the top of the Western Conference at 12-5 and look every bit like a team that deserves to be there.
With Damian Lillard leading their offence to fourth in the NBA (114.5 Off Rtg) and the defence doing the dirty work for ninth (107.8 Def Rtg), the Blazers are elite on both sides of the ball.
The Bucks are brilliant in their own right to be second in offensive rating and fifth in defensive rating, but -7 is too big.
The Blazers back court should keep them within touching distance before Lillard Time secures the cover.
Tip: Blazers +7
Suns @ Bulls
Zach LaVine has been held to just 25 points in his last two games, but they were against two of the best defensive teams in the NBA in the Bucks and Celtics.
Here, he goes against the 27th ranked Suns who leak 113.5 points per game.
With the Suns back court a shambles Devin Booker is being asked to do a lo of work. His usage rate on the offensive end impacts his already limited ability on the other side of the ball.
We know LaVine will get his shots up – he averages a team-high 19.8 field goal attempts per game. Within those 19.8 attempts, he will look to work Booker and find ways to expose the much smaller Isaiah Canaan.
This is the game for LaVine to refind his shooting touch.
Tip: Zach LaVine Over 23.5 Points
---
DFS: DraftKings (cash)
With Kawhi Leonard sitting this one out, there is an opportunity to hit on some value in the Raptors on DraftKings. While Kyle Lowry ($8,200) is the first thought – and a very good one – it's Pascal Siakam ($6,600) that can really produce over expectation.
He's rated at 93.65 on the Fantasy Labs Lineup Builder Tool and looks to once again act as a productive piece in the mid-tier price range.
Siakam is yet to record a 'terrible' performance vs his price expectation so far this season.
While solid, Siakam isn't a guy to anchor your team around. For that, we look to Joel Embiid and Anthony Davis.
Matched up against each other, alternating the pair in lineups gives you an anchor that Fantasy Labs is projecting to score 60+ DK points. With their floors no lower than 40 DK points, they can fall below expectations and still be productive enough to compete in cash games provided the rest of the team is strong.
---